Colorado Springs, CO (April 14, 2010)– Astek Corporation announces the A33606-PCISAS Expander stand-alone add in card for system builders. The A33606-PCI enhances Astek's product line of SAS expander products based upon the industry leading LSI™ Corporation (http://www.lsi.com/) 36-port LSISAS2x36 expander. The A33606-PCI is designed to fit into a PCIe slot, to be directly mounted into a chassis, or to be installed in a 5.25" mounting shell. Astek's expander products simplify the effort of adding Gen2 SAS to server enclosures, backplanes, mid-planes, and JBOD products.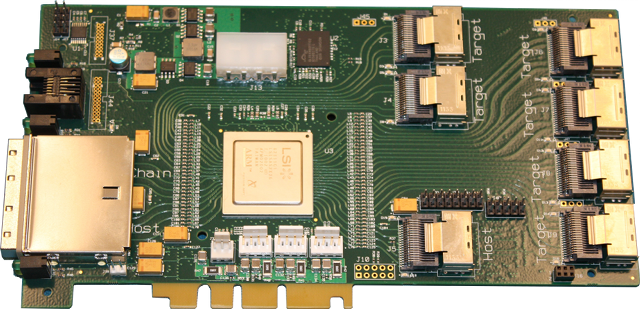 The A33606-PCI card supports 36 lanes of 6Gbps SAS switched fabric with support for ANSI T10 zoning and SCSI Enclosure Services (SES) to provision features such as slot-mapping, chassis integrity, thermal monitoring, fan monitor/control, and self-discovery of disks. The A33606-PCI provides two SFF-8088 external ports (8 lanes) and seven SFF-8087 internal ports (28 lanes). All ports operate at 6Gbps, 3Gbps, and 1.5Gbps SAS and may be aggregated into wide ports supporting up to 48Gbps of throughput on a logical connection. The expander natively supports direct attach of 6Gbps, 3Gbps and 1.5Gbps SATA disks to allow for minimum cost while allowing designers to maximize density, reliability, or a mix of both. The A33606-PCI product also supports cascaded configurations to build large arrays up to hundreds of disks, and with connection to multiple initiators, system designers can deliver Storage-Area-Networking capabilities such as fault-tolerant redundancy at a lower cost than traditional SAN technologies such as Fibre Channel.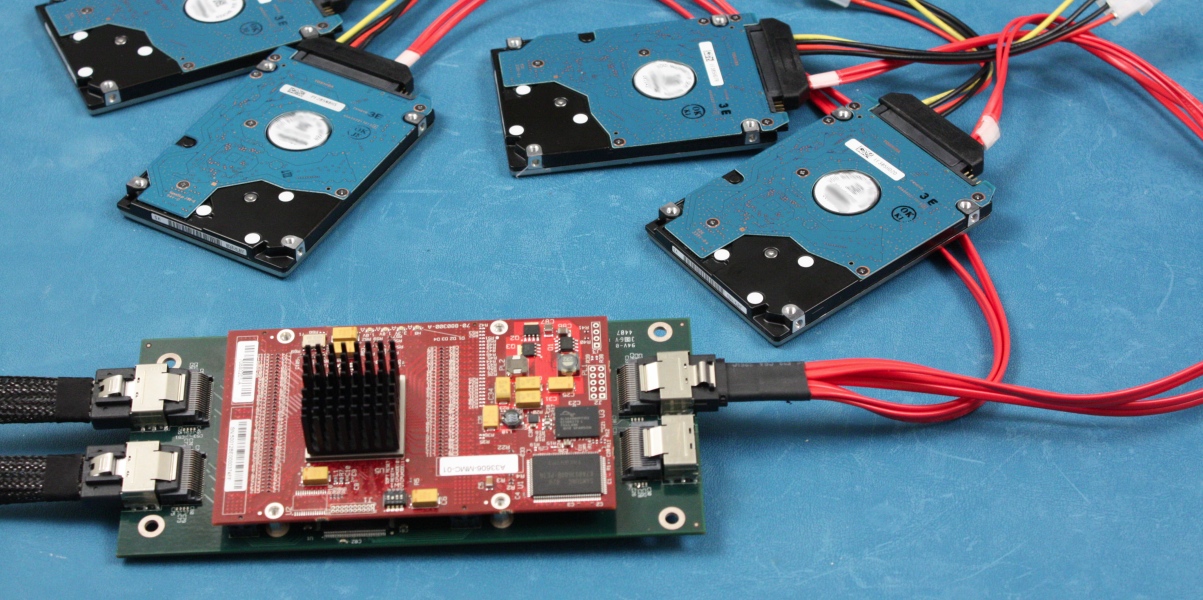 Astek's 6G SAS expander family also includes the A33606-MMC module, and the A33606-AICstand-alone add in card. Astek delivers the A33606 product family with a full range of support options to ensure successful designs, including provisioning of software and technical-support for custom applications, and interoperation with HBAs, RAID controllers, and operating systems. Firmware and configuration data including vendor identification strings can be customized or tuned for each customer. A TTY serial console is available for managing the configuration, and monitoring the expander. In addition to the standard products available, Astek can provide ODM development of custom versions of the boards, along with firmware as needed, to implement high level SES functionality such as autonomous chassis management of power supplies, fans, disk trays and SGPIO based indicator LEDs.
The A33606-MMC and A33606-AIC are currently shipping with the A33606-PCI entering production in April 2010. Contact your Astek account representative or use the contact form on our website to get technical and pricing information.
Contact
Theodore Vaida
Business Unit Manager, Embedded Storage and Computing
This email address is being protected from spambots. You need JavaScript enabled to view it.
http://www.astekcorp.com
About Astek Corporation
Astek Corporation, established in 1998, specializes in embedded computing products and solutions for the industrial, telecommunications, medical, and military markets. Astek provides off-the shelf products for storage, processing, networking and Test & Measurement of high-speed SerDes protocols such as HyperTransport™ and IEEE1394 Firewire®. In addition to standard products, Astek offers rugged MIL-STD 810 qualified systems, extended temperature operation and environmental stress testing/screening for standard products, OEM/ODM and full-custom NRE design services for hardware and firmware/software. Astek is an ISO-9001 registered company, and an executive member of the PCI Industrial Computer Manufactures Group (PICMG). Astek is a closely held private company located at 5055 Corporate Plaza Drive, Colorado Springs, CO. 80919.
LSI, Tarari®, and the LSI & Design logo are trademarks or registered trademarks of LSI Corporation. Firewire® is a registered trademark of Apple Inc. PICMG® is a registered trademark of the PCI Industrial Computer Manufacturers Group. AdvancedMC™ is a trademark of PICMG. µTCA® is a registered trademark of PICMG. HyperTransport™ is a trademark of the HyperTransport Technology Consortium. Red Hat® Enterprise Linux® is a registered trademark of Red Hat, Inc. The Astek logo is a registered trademark of Astek Corporation. All other brand or product names may be trademarks or registered trademarks of their respective companies.
Press may contact Theodore Vaida,
(719)-260-1625 for press kits or to arrange interviews.